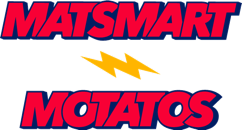 Join our revolution!  🌎
At Matsmart/Motatos, we challenge the thought of sustainable consumption. We want everyone to be able to contribute to saving our planet in an effortless way, and we believe revolutionizing how we all look upon food waste is a good place to start. At Matsmart/Motatos, we are taking care of already produced surplus goods and selling it online at affordable prices to customers who want to buy perfectly good food that otherwise would have gone to waste.  
Tech at Matsmart/Motatos:
Matsmart/Motatos is one of the leading e-commerce companies in Sweden. We have a modern e-commerce architecture built on a headless e-commerce platform based on Drupal, content from Contentful, and React frontend. At Matsmart/Motatos you will get to work in a fast-paced and rapid-growing environment with a state-of-the-art technology platform. Our tech department is small but a growing team of tech enthusiasts and every member of the team plays a crucial role in our success story. In our tech team, you will get challenged and feel that you are making a difference. If you are passionate about tech, want to make an impact, and have fun along the way, you might fit in our team. 
The Role:
As a Frontend Developer at Matsmart/Motatos, you will be part of driving a positive change, fighting food waste, and reducing our climate footprint. ♻️Since we are scaling up our platform to handle new markets and an increased amount of customers, we offer you an exciting role filled with responsibility and variety. Your main responsibilities will be to:
Continue to plan, design and develop our frontend (React, Redux, Sass) for existing and new markets
Maintain the current stack, with regular updates and patches
Write high-quality code and do code -reviews with the team
Be a key player in building a strong team with high-quality output and create a culture of innovation
Use your understanding of our business goals to create solid and high-quality solutions inline with our long-term strategy
We believe that you:
Have a solid experience of developing B2C Frontend with React ecosystems, Redux, Sass, Next.js, Node, and REST
Have experience in test-driven development
Have experience or interest in UX work, A/B testing, log analysis, patch management, APIs, CDNs and caching
Have experience in working within e-commerce or retail (if you don't have it yet, we'll teach you everything we know)
Like to have fun at work and have a customer-centric mindset
Are eager to learn from your colleagues and can also bring something to the table
What's in it for you?
Matsmart/Motatos offers you a social and energized workplace where your creativity and ideas are more than welcome and appreciated. We like to explore and we are not afraid to try new things. You will get a good combination of freedom, responsibility, and variety. We want our employees to learn and develop but also have fun at work. 
Since we are in a rapid growth phase, you get to be part of an exciting journey where we are growing in terms of employees, new markets, new products, and the development of the platform. Together we build a successful and unique e-commerce company that is contributing for a good purpose.
Start date: As soon as possible  📆
Work extent: Full time, permanent position with a six months probationary period
Location: Södermalm, Stockholm
Do you think this sounds interesting? We are looking forward to your application! 🙌🏽
Related jobs
Why work with us?
Have real impact ♻️

A unique opportunity to work hands on to reduce the food waste.

Entrepreneurial journey 💪

Entrepreneurial experience in a well-financed company with very ambitious growth plans. Plenty of room for personal growth.

The best colleagues available👫

We are a dedicated team that work towards a common goal. We have fun together and learn from each other. Everyday.
Workplace & culture
Our employees are driven, smart, fun and truly passionate about our mission - to reduce the food waste. The atmosphere is entrepreneurial and energetic.
About Matsmart-Motatos
Matsmart/Motatos is an online store with the superhero ambition of saving the planet by reducing food waste🦸‍🌎 How, you might wonder? Well, simply by selling stuff that would otherwise have gone to waste due to reasons like overproduction, faulty packaging, seasonal trends and short or passed expiration dates. Awesomely at bargain prices. Do you too feel like a hero? Join us✌️
Coworkers: 175
Founded in: 2013
Already working at Matsmart-Motatos?
Let's recruit together and find your next colleague.